​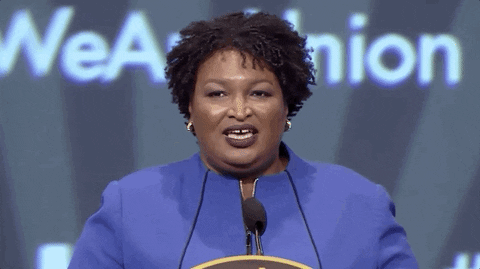 Holy shit, did you start your morning off on Saturday by jumping out of bed, running outside and screaming, "FUCK DONALD TRUMP!" and then partying your ass off all day? Cuz I did. The U.S. most likely won't turn into an authoritarian dictatorship in 2021 afterall! I feel like 70% of the weight has been lifted off my shoulders!
I say 70% because COVID is still a thing, and also because WE STILL NEED TO WIN 2 SENATE SEATS IN GEORGIA'S RUNOFF ELECTION ON JAN. 7. If we don't get these seats, a Republican majority in the Senate will be a continued nightmare with Mitch "The Turtle" McConnell blocking literally everything we try to do. If you know anyone in Georgia, make sure they have a plan to vote!
​
I promise I'm going to talk about shitty dating stuff soon, but the personal is political, y'all! And that's why I signed up for Stacy Abrams' FairFight.com to do everything in my power to help her with the races in Georgia.
---
Also Good News:
Did you know combating online harassment of women is in Joe Biden's official plan of action? We've been complaining about this shit for years, and apparently he's been listening! Peep his strategy:
We're getting a task force! With reporting for stalking! And threats! And revenge porn! And cyber exploitation! And he knows the connection between the men who harass us and their subsequent actions of extreme violence and mass shootings!
I know the fight is not over, but FUCK, this is such good news. Finally!!! It feels like we are all collectively Dolly Parton hogtying the sexist, egotistical, lying, hypocritical bigot.
Pro-Tip of the Week
​Stay inside and watch 9-to-5. It is so satisfying.
*I saw that it was supposed to be on sale for $2.99 today on iTunes, but now I'm not seeing the sale price. I hope they fix it.
---
Asshole of the Week
Here is this week's uncensored Bye Felipe moment.
Yeah, I'm sure he's working on it. 🙄
​
Ok, one more gif from 9 to 5
​
XOXO,
Alexandra